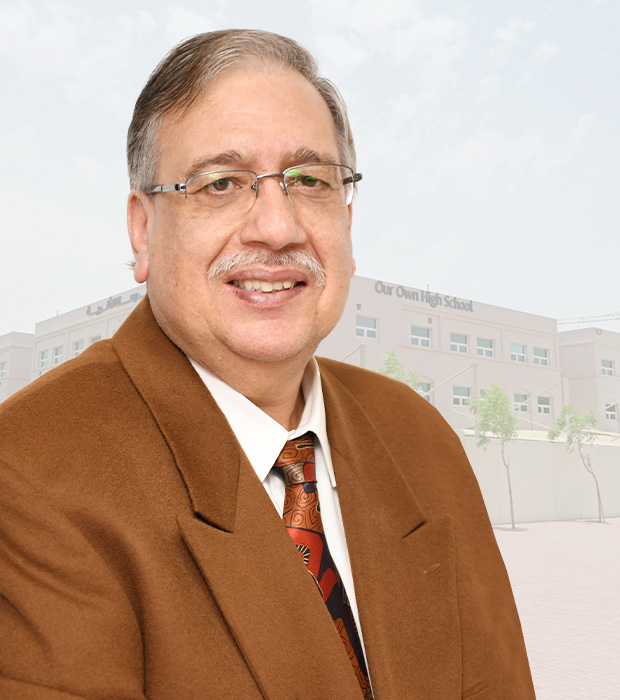 Welcome Message from the Executive Principal
I would like to begin by thanking all the stakeholders of Our Own High School, especially our Parents and their lovely children, who have always provided me with an opportunity to serve them and their wards, with my best effort, experience, and knowledge. In the capacity of Principal of Our Own High School since April 2012, I am pleased to share that the opportunity given to me as Head of school enriched my experience in education further, ever since I embarked upon my professional journey as a school teacher way back in 1986 in India.
During these 9 years of Leadership at Our Own High School my effort was to lead the students, staff and share my expertise with the faculty of the school to raise it to greater heights. With humility I share that in the KHDA inspections we were able to take the school forward in 65+ parameters from where we started, in 2012. Today we stand with 71% parameters in KHDA inspection at Very Good or Outstanding which has elevated the school to a strong GOOD overall.
I am once again humbled to say that along with the great faculty of Teachers and Leaders at Our Own High School, we were able to see successful student outcomes. We saw our children coming first in Robotics in the world in 2015, first in the UAE F1 Championships, first in Athletics, Basketball, Chess, Cricket, Badminton, and representing UAE further in India and in the world. Having won the first position in UAE, we have seen students represent CBSE, UAE to play the CBSE National Games in India and bring back TEAM Championship trophies after winning Gold, Silver and Bronze Medals in sports.
Our students have continuously raised the bar in academic achievements over the years surpassing attainments of previous years. Over the years we have seen students secure perfect SAT scores and earn 100% scholarships in reputed Colleges world-wide thereby inspiring their juniors to dream, aim and strive high.
Today we celebrate students who are in the UAE Men's Cricket Team, students who have secured respectable ranks in the world of Tennis, UAE champs in Badminton, Football, Chess and Basketball. I am deeply indebted to all the students of Our Own High School, who with their efforts, dedication, focus and resilience have brought laurels to this school and are thus the real champions of the school. I deeply appreciate their contribution.

From 1st April 2021 I have been requested to lead Our Own High School, as the Executive Principal of the school. I am honoured to be given this opportunity and would like to share that my aim of student empowerment and enrichment and my effort to carve their character continues with greater impetus to help them achieve their dreams.
I continue to believe that coming first is important, but if respect for one who comes second is not developed, then coming first has no meaning. It is important to gain knowledge and develop skills, but if we do not remain humane and kind to one another then the knowledge we acquire, has not been put to good use.
I am grateful to the Leaders of UAE who have provided us an empowering environment to learn and grow into Educational Experts. I have learnt so much in the field of education in these 9 years that it seems more than the 3 decades of my past learning put together.
Before I end this message, I would like to thank the senior Management of GEMS who continue to inspire. Our Chairman Padma Shree Mr. Sunny Varkey tirelessly motivates us with his matchless vision, meticulous planning, and unconditional support. I am also indebted to the senior management leaders at SSC GEMS for their constant support to raise the bar at school, year after year.
I wish every student the very best, and to every parent I wish to say THANK YOU, for being there as a critical friend to help us provide the best education to your ward.
I wish the entire staff at Our Own High School the very best. I would also like to Pen down that the SLT Team with whom I very closely worked majority of my time, is the best any school can have. I shall always remain indebted to these lovely individuals the Education Admin Team, the MSO, the Senior Accountant, the Head Counselor, the Doctors, the HR In-charge, the Registrar, to GRC and GRE and to Principal secretary Ms. Nancy.
My best wishes also to the new Principal Dr. Anjuli Murthy, as she takes over the reins of the school from 1st April 2021. I assure my complete support to Dr. Murthy to serve the parents, students, and staff at Our Own High School to the best.
Sanjeev Kumar Jolly
Executive Principal