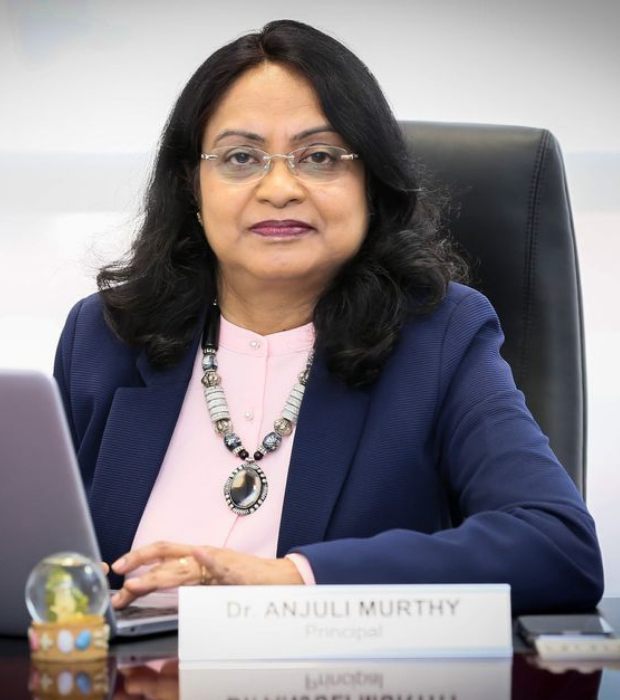 Welcome Message from the Principal
I feel privileged to be the Principal and CEO of Our Own High School, the flag ship school of GEMS with an illustrious legacy of providing quality education for the past 52 years.
My long experience as a teacher, a leader and my association with GEMS has been enriching and rewarding and my greatest learning has been… through my interaction with children. I am honored to have the opportunity to lead a school with such a rich legacy in education!
The alumni of this illustrious school have made their mark across the world as doctors, lawyers, scientists, chartered accountants, CEOs and many more. The strong foundations of critical thinking, leadership, innovation and collaboration were laid in the class rooms and playing fields of the school by the committed and forward thinking faculty and leaders of the school all these 52 years.
In the rapidly changing educational scenario, it will be our endeavor to provide children the platforms to develop critical digital and technological skills which will be critical to their careers, in the years to come. The school will work to enhance curriculum in a rigorous manner along with real life experiences and experiential learning so that we can continue to increase students' attainment and progress. Our Own is well known for its accolades in sports, robotics, environment, art, drama, dance and debating and these provisions for developing diverse skills will continue to enrich the learning experience for all children of the school.
In the words of Julia Gillard - "Our future growth relies on competitiveness and innovations, skills and productivity and these in turn rely on the quality of education of our youth."
The school is committed to ensure an excellent education for all students which will prepare them to be successful global citizens, confident, responsible with strong moral values and the requisite 21st century skills in an ever changing world.
It is through a strong, positive and ongoing collaboration between the school and parents that we will be able to accomplish our vision for our students. Parents, you play such an integral part of the educational journey of your children and I look forward to working with you. I will work in close partnership with the Executive Principal Mr. Sanjeev Jolly, senior leaders and faculty of the school, to help each student meet their goals and have a successful and rewarding school year!
In the words of Helen Keller….
"Alone we can do so little, together we can do so much."
Dr. Anjuli Murthy
Principal / CEO