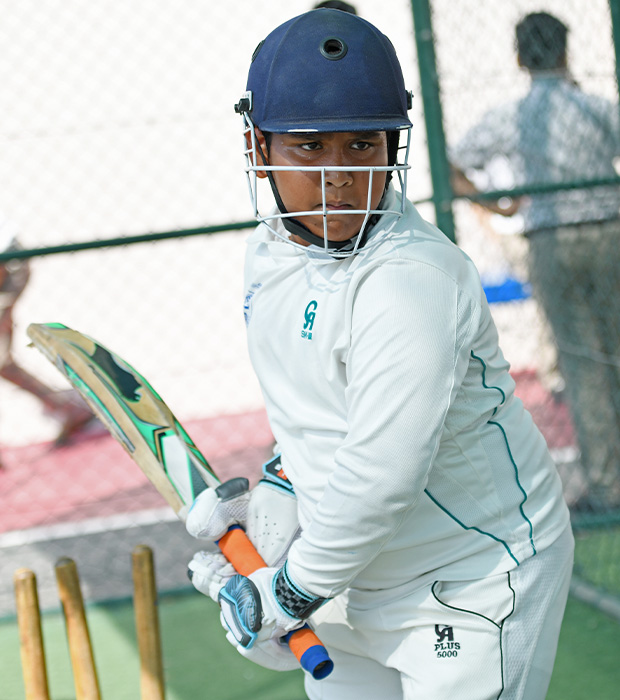 Extra Curricular Activities
Our Own High School embraces the GEMS philosophy of preparing the whole child for the whole world.
The school offers a kaleidoscope of co-curricular activities, community involvement programmes and school events which support our rich education programmes that provide all-round development of the students' personality. An Activity period is incorporated into the timetable for this purpose.
Creative Expressions Visual Arts
We pride ourselves on providing a wide platform for students' artistic and creative energies. We help to channel creativity and imagination as a means of self-expression, through a series of art competitions and talent shows held throughout the year. The fine quality of art at "Our Own" is in evidence in the department and is on display around the school. Students gain genuine fulfilment by expressing themselves in drawing, painting, three-dimensional work, and other media. Various activities include craft making, glass painting, fabric painting, sand painting, mask making, and vegetable printing.
---

The Performing Arts
Music is developed through vocal and instrumental skill-based activities contributing to the school's characteristically energetic and outgoing ethos. There are plenty of opportunities for children of all ages to participate in choirs and ensembles.
We also involve our students in various performing arts and over the years have helped mould students with exceptional theatrical talents and presence of mind on the stage. They are involved in musicals, cultural performances, dances, elocution and drama.
Students learn to develop a deep appreciation for different forms and various expressions of art and culture. They gain self-confidence and poise that will prove to be an asset for them in the future.
---
Public Speaking
The skill to speak in public is a must for success in life. Acquiring public speaking skills involves "learning by doing." Students are trained to give short demonstration speeches beginning in primary grades and progressing through high school. Their oral communication techniques are refined and retooled as they gain more experience through debates, declamations and elocution.
---

Physical Education
Students experience many areas of activity including games such as cricket, football, badminton, volleyball, table tennis and basketball as well as gymnastics, athletics and swimming. Free coaching is given in the activities after regular class hours. Emphasis is placed on the value of exercise as a means of enjoyment as well as promoting a healthy way of life. Participating in team games is encouraged in order to develop appropriate social skills. We take part in inter-school matches and sporting events.
To provide a full range of facilities for physical education, the school has hired the facilities available at the Etisalat Academy. "Our Own" has an established reputation for sporting achievement.
---
Scouting
A perfect package of mental and physical activities that enhance the overall personality of the student. Under the able guidance of competent teachers, boys are given training to 'be prepared' to face the challenges of life.
---
Educational Field Trip
The school conducts field trips and outings that provide interesting, fun-filled and educative experiences for students. Student involvement and participation is a prime objective, as successful first hand experiences foster a positive attitude towards learning and reinforce the concepts that are learned in the classroom.
---
Olympiads
Our students participate in large numbers every year in the Mathematics, Physics, Chemistry and Computer Science Olympiads organised by the Council of CBSE schools in the Gulf.