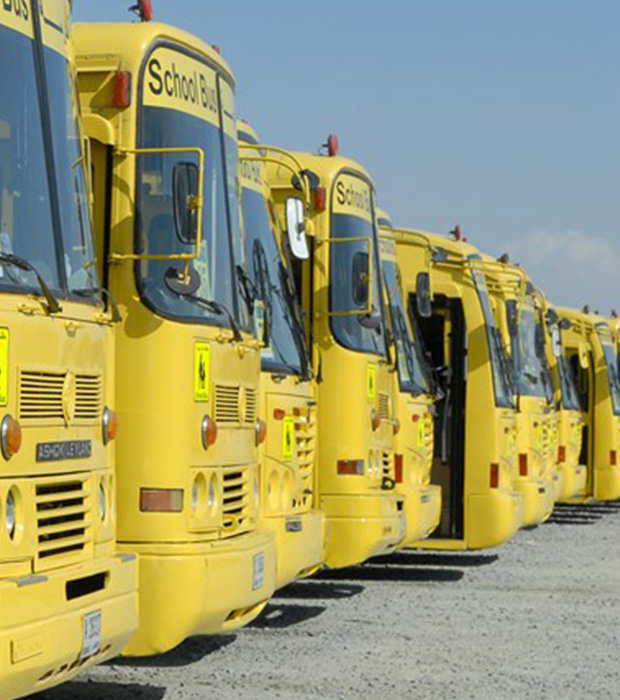 School Transport
Our Own High School, Al Warqa'a has outsourced the school transport service to School Transport Services LLC (STS). STS operates the bus fleet maintaining exceptional safety standards and strictly following the specifications and regulations laid down by the Road Transport Authority of Dubai. All buses are fitted with Video Surveillance System, Global Positioning Systems and scanners for the purposes of student attendance confirmation and safety.
STS is the only ISO certified (ISO 9001:2008 and OHSAS 18001: 2007) school transport provider. STS is the winner of Dubai Award for Sustainable Transport 2010 and Dubai Quality Appreciation Programme (2011).
STS is managed by experienced professionals who have a long track record of safe transportation to students. STS works closely with the school administration team to ensure that parents and students receive the best service possible.
After submitting the Transport Request Form the STS area specialist will check the route and the pick-up / drop off point to ensure that they are able to offer the service in your area and that the pick-up / drop off point is safe. Once this has been confirmed you will be notified of the timings, bus number, driver's details and the bus mobile contact number (available at the STS website)
Bus availability
STS is not able to guarantee all bus routes requested.
Contacts
The Customer Care Executive of STS works with the school administration and acts as the first contact for parents for transport matters.
Mobile : +971 55 2207497
E-mail : [email protected]
The transport fees are as under:
Sr No
Area/Route
Annual Fee (AED)
TRANSPORT FEE PER TERM (AED)2018-2019
Term 1
(Apr-June)
Term 2
(Sep-Dec)
Term 3
(Jan- Mar)
1
Al Warqa'a, Mirdif
4,000
1,200
1,600
1,200
2
Al Qusais, International City, Rashidiya, Nad Al Hammar, Sky Court, Ras Al Khor, Dubai Silicon Oasis
4,200
1,260
1,680
1,260
3
Karama, Bur Dubai, Deira, Satwa, Jafliya, Al Shaab, Hamriya, Hor Al Anz, Garhoud, Al Awir
4,500
1,350
1,800
1,350
4
Sharjah, Al Quoz, Al Safa, Down Town, Trade Center, Business Bay
4,750
1,425
1,900
1,425
5
Jumeirah 2 & 3, Gardens, Greens, Discovery Gardens, Al Barsha 1, Jebel Ali, Tecom, JLT
4,950
1,485
1,980
1,485
Note: We have dedicated pickup points / drop off points in the above areas. Please check your location and pickup/drop off points with the STS Customer Care Executive available at the school to confirm the transport service.
The transport fee is charged for ten (10) months in an academic year, divided in three (3) terms. The fee must be paid before the beginning of a term to activate the student ID card*. Full payment for each term must be paid irrespective of the number of working days. Transport use can be discontinued only at the end of a term. No refund shall be made for the unexpired portion of the term, in case of withdrawal from transport facility. A 'service charge' of AED 50/- will be applicable to those who discontinue transport service for any reason other than discontinuation at the end of the academic year.
Payment Options
Online Payment through the website www.stss.ae
Cash / Credit Card (Master / Visa) payment at the STS counter in the school
Cheque in favour of 'School Transport Services LLC' at the STS counter in the school
Through the STS APP
There will be a charge of AED 25/- in case of any dishonoured cheques. Only cash / credit card payments will be accepted in lieu of dishonoured cheques.
*Please note that transport fees are required to be paid in advance to activate the student ID card and the student ID is required to travel on the bus. All ID cards must be activated for registration and insurance of bus journeys. If any transport fees are not paid by the 10th of the first month of the new term, the student ID card will be deactivated, and the student will not be permitted to travel on the bus until fee payment has been made.